Welcome to the USS Broadsword NCC 70542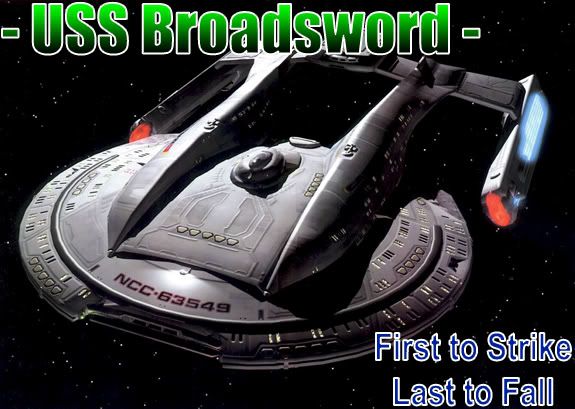 Welcome to the USS Broadsword, an Akira class cruiser commanded by Commander Felix. We are dedicated to the Re-exploration of the galaxy and to rebuild this quadrant after it was ravaged by the Borg war and the ongoing Cardassian war. The USS Broadsword is a Play by Forum Simm, new players are always welcome. We are based on a Timeline specific to Expedition fleet and can be found in the menu on the left.








Roll Call ending by 1-31-12
by Commander Malcolm Rivers on 2012-01-17 08:01:49

Alright Guys, first things first, as of now there is a fleet wide roll call in effect, this is being posted across all ships so that anyone interested in remaining active/returning to activity has proper notice and the opportunity to do so. Given how long overdue this is, you will have two weeks to respond to this roll call on the boards (1/17/12 to 1/31/12). Please include the following information

Name:
Active Characters:
Positions of interest:
Estimated Available activity (Posts/Week):

For active characters, please list characters you intend to keep going into the next mission on the Vendetta/characters you would like to bring to the Vendetta from other ships. If you wish to maintain your existing characters on their current ships once they are transitioned EFFs you will be free to do so, but that does not need to be reflected here.

Positions of interest should be pretty straight forward, what would you like to do, again on the Vendetta. Other ships will be handled separately. For now I¡¯m going to restrict people to one senior staff position and up to 3 junior office/enlisted positions, depending on interest shown in returning this may change.

Please be realistic in your estimate, we can all say we¡¯re going to post ten times a week, that doesn¡¯t make it true. I¡¯d just like to get an idea of where we¡¯ll be as a fleet starting next mission.

Now onto how things will be handled next mission. As I stated above positions are open to all interested personnel. You may hold one senior staff position and up to 3 junior office/enlisted positions. Each character should have a biography in line with the seniority of the desired position, so no big changes there. I will work with you guys to hammer out a system for posting going forward to avoid confusion related to posts featuring multiple characters written by the same person.

If you guys have questions/comments please post them in the Fleet Announcements thread as I¡¯d like to keep the roll call thread as clear of derails as possible. With any luck I¡¯ll be able to bring in some fresh meat in the next few weeks, and we can get the old girl back on her feet!
New Forums
by Commander Malcolm Rivers on 2008-11-15 22:40:47

Well it's been more than a month but we finally have our new forums up and operational. I would like all members to register on our new forums, http://www.expeditionfleet.net/forum/. You will find that the forums are structured very similar to our previous boards, with a few missing threads, and no posts. The cost of moving all the data and acquiring software to make our new boards compatible with our old posts was prohibitively expensive. I will be working with several other admins to migrate as many of our old IC posts as possible to the new boards. Please don't hesitate to start up old threads or resurrect old topics.

In order to facilitate a smooth and rapid return to activity there will be a fleet wide roll call in effect starting now, and ending on the 23rd. All members will need to create an account on the new forums, and post a response in the appropriate roll call thread on the board or they will be removed. You should set up your account exactly as it appeared on the old forum, including your signature. If you wish to change your handle, please PM me to let me know that you've made the transition under a new name. If you have any questions, I can still be reached on the old forum Via PM or via Email at any time (alfaforce5@yahoo.com).

Please also take some time to familiarize yourself with our boards new features, you should find that our new forums are somewhat more user friendly. I will be posting the first post for mission 14 tonight, and expect the other captains to follow suit in returning to activity as soon as possible. Hopefully this down time has left you refreshed and eager to get back in the game!

-Robert Morris EFCO
Forum Transition
by Commander Malcolm Rivers on 2008-09-24 22:12:45

Attention all members, effective October Second 2008 the current fleet forums will be shut down for data migration. All posts and user information will be migrated to the new forums, and posting will resume on the new boards within one week. In an attempt to insure that all members move promptly to the new boards a fleet wide roll call will go into effect starting the day the activation of the new forums and ending one week from that day. Additional information on the Roll Call procedure will be posted throughout the fleet sites and the new forums once the new forums are online. Let me be clear now that failure to respond to this Roll Call will result in removal from the Fleet regardless of position, there will be no exceptions. If you have any questions, please post them in the relevant thread in the Forum announcements section of the current forum, and one of the Admins will promptly respond to you.

It is my goal to have this transition go as smoothly as possible, I will continue to post regular updates as we come closer to the transfer day, as well as once the new forums are online. Once again, if you have any questions, please post them in the appropriate thread.

Robert Morris
EFCO